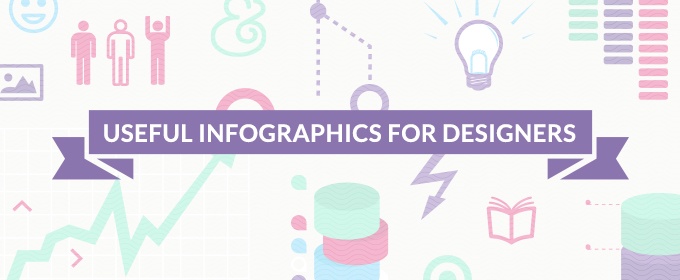 There aren't many better ways to gain information these days than infographics. Infographics allow designers and non-designers to compile interesting, important and funny information all into one creative package. An infographic is meant to tell a story and provide information in a visually striking way. You can use an infographic to visually display statistics, facts, data, and anything else.
Today, we've compiled a list of useful and funny infographics for both designers and develoeprs. You'll see things that will make you laugh, and infographics that you can use as a reference sheet on a daily basis.
Funny Infographics for Designers and Developers
A Day in the Life of a Graphic Designer
East Coast vs. West Coast Designers

How Would You Like Your Graphic Design?
Your Average Designer
Web Designers vs Web Developers
Useful Infographics for Designers and Developers
What Makes Good Information Design?
The Principles of Design
Illustrator Short KEys
Photoshop Short KEys
Color Infographics
The Psychology of Color
The Color Strata
Ever wonder what colors fit into specific color categories? Is mauve considered a 'brown' or 'purple' color? The Color Strata infographic includes 200 common colors names like teal, peach, lilac, and cyan. You'll easily be able to visualize the relationship between certain color using this infographic and find out the names of colors while you're looking at them.
Color Emotion Guide
The Colors of the Web
What Colors Mean Across 10 Cultures
* Please note that for many of the infographics described above the full infographic is not displayed as to save space. Please click through the image or the links to view the complete and entire infographic.
How Do Colors Affect Purchases?
What Your Brand Colors Say About Your Business

RGB vs. CMYK
Typography Infographics
A Brief Introduction to Typography
A Quick and Comprehensive Type Guide
Bold and Justified
A Dummy's Guide to Typefaces
Serif vs Sans - The Final Battle
The Psychology of Fonts
So, You Need a Typeface?
Web Design Infographics
2013 Web Design Trends
Anatomy of an Effective Web Design
Anatomy of a Perfect Landing Page
Responsive Web Design
Ultimate HTML Cheatsheet
Ultimate WordPress Cheatsheet
Make Your Own Infographic
Interested in making your own infographic? Here are some awesome tools from Creative Market to help you make stunning infographics without pain for frustration. You'll quickly be able to display your data and info beautifully with these tools.
Source: https://creativemarket.com/blog/2013/08/12/30-useful-infographics-for-designers-developers?utm_source=CMtwitter&utm_medium=tweet&utm_campaign=blog_30-useful-infographics-for-designers-developers